© 2008 TheUrbanK9.com  All rights reserved.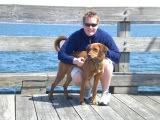 Karen Donoghue and Erika Forssberg decided to open The Urban K9 after 

recognizing the need for busy dog owners and to keep tails wagging 

during work crunches and midday meetings. 

The Urban K9 is a pet sitting and dog walking company you can 

TRUST and that is insured through Pet Sitters Associates, LLC.  

We are a company that pays attention to the details! 

At The Urban K9 we know that every animal has something wonderful and unique to add to our lives. We are committed to providing both pets and their owners with the confidence that they are in the best of hands. 

If you are looking for an experienced, trustworthy and reliable pet sitter to 

take care of your pets, The Urban K9 is always here for you! 

What People are Saying!!!!

E-mail us your comments, questions, and concerns. Let us know what you like about us and even what you don't like (so we can make it better). Questions and comments will only be posted after they have been reviewed. Make sure you include your e-mail address and we will respond ASAP.

We really want to know what you think!!!

5 star rating 11/12/2008 

I wish I could give Karen & Erika MORE than five stars!  They are the best.  They take our two crazy puppies to puppy play group each day, which is a lifesaver for us.  They're are always good humored, calm, and loving -- even when our boys do things like chew through the new dog-ties and gate in the NEW Urban K-9 truck.  They also check in on our 14-year old lab mix, and all three of our dogs have stayed with Karen & Erica when we have been out of town.  They are flexible, creative, and accommodating -- we never worry when our dogs are in their care.   And, most importantly, they truly love and understand dogs.

Karen & Erika are nothing short of amazing!!

Carrie F. in Boston, MA

They are terrific! I love my animal, he is part of my family and I only want the best for him when I cannot be there. The owners of Urban K9 are true animal lovers, with a gift for caring for animals. They are professional, responsible, responsive, communicative, and most importantly, I believe they are genuinely kind to my animal. 

If you need pet services in the towns they service, I highly recommend them. 

5 star rating 07/25/2008 

Woof Woof Karen & Erika (which means "thanks" from my puppy!)  :)

My 18 week-old puppy spent a night at Karen & Erika's, and it was his first time away from home.  He had a GREAT time, met new dog friends, and when I picked him up at the park the next morning (during the morning romp for all the Urban K9 dogs), he barely acknowledged me.  When we got home, he slept for HOURS.   He was happy and exhausted, which made me happy as well.  I am so glad someone recommended Urban K9 to me, and you should check it out!

Margot D.in Brighton, MA

5 star rating 06/26/2008

Seriously...Wow!   Karen and Erika rock!

We moved to MASS in March and already had a trip planned back to Chicago in June.  We love love love love LOVE our Beagle so we very meticulously researched places to board her.  Our problem was we had a ridiculously early flight out of Logan and a ridiculously late arrival back in.  Most places wanted us to drop off Zoey the night before we left and pick her up the night after.  Not cool.  If we're home, we want our baby with us!  

We stumbled upon The Urban K-9 through a web search and were stunned not to see any reviews on yelp.  Anyways, they have a PET TAXI service and offered to pick Zoey up after we left and drop her off before we came home.  It was awesome!  And they've got the best prices around for insured petsitters.  All their services and prices are listed on their website...so check it out.

The owners Karen and Erika knew that we were protective pet owners, so they called us when they picked up and dropped off our pup and even called to give us updates on how she was doing.  They even took her with them on their daily runs to the dog park.  She was one tired pup when she came home.  And you could tell they really love dogs and love what they do.  So refreshing. 

I don't think I could trust my Zoey with anyone else!

Melissa B.  in Belmont, MA